With declining reimbursements, worsening staffing challenges, and a pandemic in our midst, it's become more challenging than ever to create a financially viable urgent care operating model.
An important concept to keep in mind is that the lifetime value of a patient (LTV) is a key determinant in your profitability equation. Understanding what it costs you to acquire a new patient into you practice (cost of acquisition) along with the lifetime value for that patient yields some very actionable information.
Take it from our webinar host, Dr. Rob Rohatsch, who founded PhysicianOne Urgent Care in the Northeast and then oversaw Banner Health's profitable growth from two sites in Phoenix to 53 in one of the lowest paying markets in the country. Dr. Rohatsch brings his extensive background in multi-site ambulatory medicine operations, on-demand healthcare, and consumerism to us in this webinar to uncover the latest tech trends in healthcare as applied to brick and mortar urgent care strategy and optimizing LTV as a profitability lever.
In this webinar, we cover
How to use lifetime value as a key performance indicator to understand the financial health of your business
Proper LTV benchmarks and how to plan your marketing budget based on your current LTV numbers
Actionable strategies to boost LTV and reduce leakage from both smaller as well as multi-state urgent care platforms
Spoiler alert: seeing a few more patients per day can make a dramatic impact on your bottom line. Bringing them back 2–3 times throughout the year can skyrocket you to profitability.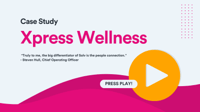 Rob Rohatsch, MD, Chief Medical Officer, Solv
Matt Waxman, Director of Urgent Care Growth, Solv
Book a free consultation
Learn more about how Solv can transform your urgent care business—and see Solv patient traffic in your specific area.