Webinar | 10/26/22 12:00 PM PST or on demand
Expand your profit margins: How to quickly streamline operations and create patient experiences that inspire loyalty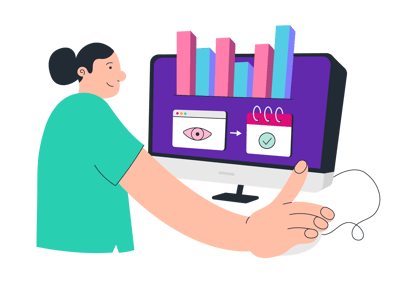 With declining reimbursements, a national staffing shortage, and looming economic uncertainty, it's absolutely critical to be thinking about ways to widen your urgent care margins where possible. There are two levers you can pull to make an immediate impact: increase patient volume and streamline operations to maximize velocity.

Technology can help your urgent care automate front desk tasks, save time during patient check in, and improve staff efficiency.
As we shift into the modern era of healthcare, it's becoming more and more clear that no tool is a one-size-fits-all, most EHR platforms don't do a great job of patient scheduling or engagement (because that's not their purpose), and you need the technology you do use to run your business to talk effectively to each other.

We'll highlight the ways you can simplify operations quickly—before respiratory season hits. Join us to hear how urgent care providers quickly streamlined their front desk operations, eliminated data entry, and kept up a 5-star patient experience.

Come see how other urgent care operators are using technology to streamline their workflows, increase patient velocity, and expand revenue.
In this live webinar + Q&A, you'll:
Hear how 2 providers quickly and easily folded Solv into their existing workflows, plus the impact Solv has had on their velocity and volume

Understand why interoperability is crucial to the financial future of your urgent care business and what your integration options are for open and closed EMR system

Learn tips from our very own urgent care operations expert on how to reduce staff burden, increase velocity, and navigate economic uncertainty